The 9th edition of the International Mobile Film Festival takes place online as a virtual film festival Saturday, April 25 & Sunday, April 26. All the films were shot with smartphones.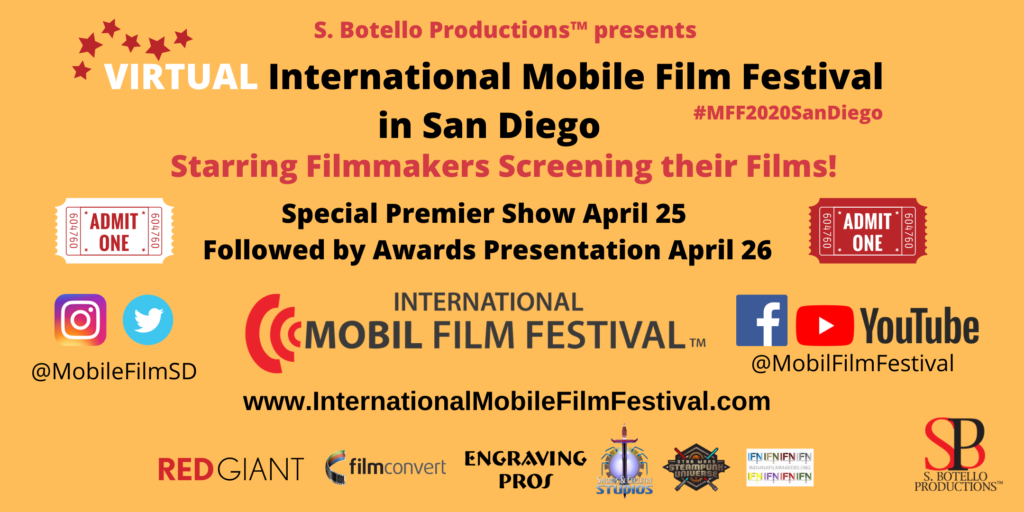 The show and all films will have a premier screening at 1PM PST on Saturday. The show includes a few treats including creative video messages from some of the filmmakers. There are 26 short (1-5 minute films) and 2 feature films of about 90 minutes each.
The Awards show will announce the winners and includes a special virtual red carpet treat and a few words from the judges for the Feature Film Competition and the Short Film Competition. The Awards will premier on Sunday at 1PM PST.
Some of the films will only be available for a very limited time during the virtual film festival.
The film festival was set and organized as a live event. Everything was in place to take place April 24, 25 & 26. Due to the Corona Virus COVID-19 situation, the festival had to shift the event into a virtual film festival.
Special thank you to the judges for rating all the films so that the trophies could be engraved before non-essential businesses were forced to close by order of the California Governor on March 19.
Special thank you to all 28 filmmakers who agreed to include their films online to stream during the virtual festival and send creative videos to be a part of the event online.
Thank you to our Honorary Ambassadors Jed Brophy and Mark Hadlow in New Zealand for participating in our virtual festival. Actor Jed Brophy was scheduled to attend the live event in San Diego to present a live Q & A with attendees during the presentation of the feature film, "Blue Moon," written and directed by Stef Harris. The film also starred Mark Hadlow. Jed and Mark played roles in The Hobbit films.
Thank you to Dude Vader and Tracy Hot Nerd Girl, for participating in the virtual red carpet celebration representing Star Wars Steampunk Universe.
Thank you to our SBP Team ambassadors Vesna Ristovska, in Macedonia and Aaron Nabus in San Diego. A special thank you to our newest team member, Executive Producer Lin Lloyd from Palm Springs.
Thank you to our sponsors: Red Giant, FilmConvert, Swords and Circuitry Studios, Star Wars Steampunk Universe, Indiana Filmmakers Network
This virtual online event is completely free. Please support mobile filmmaking and our efforts to bring this film festival to you in a short time to provide respectful and proper recognition to all the filmmakers who created wonderful films, submitted them to our film festival and whose films were selected to be a part of the festival this year.
Below are time zones which may help you attend the virtual show on time with your friends.
4/25 and 4/26 1pm PST
4pm New York, New York
3pm Austin, Texas
8 am following day Wellington, New Zealand
10pm Cape Town, South Africa
11pm Moscow, Russia
9pm London, UK
6am following day Sydney, Australia
4pm Ottawa, Canada
1pm Vancouver, Canada
10pm Barcelona, Spain
10pm Rome, Italy
10pm Paris, France
You can also support us by being our patron.
Follow us! Facebook | Twitter | Instagram | YouTube
Website: www.InternationalMobileFilmFestival.com
Listen to the SBP Podcast Mobile Filmmaking available in your favorite podcast app.
Please share this event with all your friends and family. Be inspired.
Update: Results of the festival.
© 2020 S. Botello Productions™ All rights reserved.