"The Fixer" (shortened to meet our first film festival criteria), submitted by Conrad Mess in 2011 and this film won Second Prize in our commemorative annual International Mobil Film Festival™ in April 2012.
"The Fixer" was the first film we received after launching in 2009. It was shot with an iPhone 4 and then treated with special effects on a computer using Adobe AfterEffects. The rights to the film belong to Conrad Mess who has given us full permission to share on our video channels.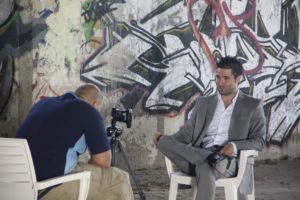 The Following is a testimonial from Conrad Mess: 
"Since I was a boy I loved film. I would create stories in my head like movies. When I grew up, I dreamed of directing my own movie. I would imagine people liking my movie and receiving an award and giving a thank you speech. But it was nothing more than a dream, a wish, something you fall asleep with every night….motivated by your response…it [The Fixer] didn't come out bad. And thanks to that, the three-minute version of "The Fixer" won the iPhone film festival of Singapore and was a finalist in OIFF in San Francisco and the Shorts-nonstop, competing with "real cameras." So thanks to the Mobil Film Festival of San Diego, and thanks to you, Susan Botello, The Fixer has won three times. Thank you, my friend. So now, it doesn't matter wether you have the education or experience. All you need is your imagination and your dedication. So don't be afraid and go for it. Our moment has come!"

Conrad Mess (First Film Submitted to IMFF in 2011) | IMFF 2012 Second Prize Winner
© 2012 All rights reserved.