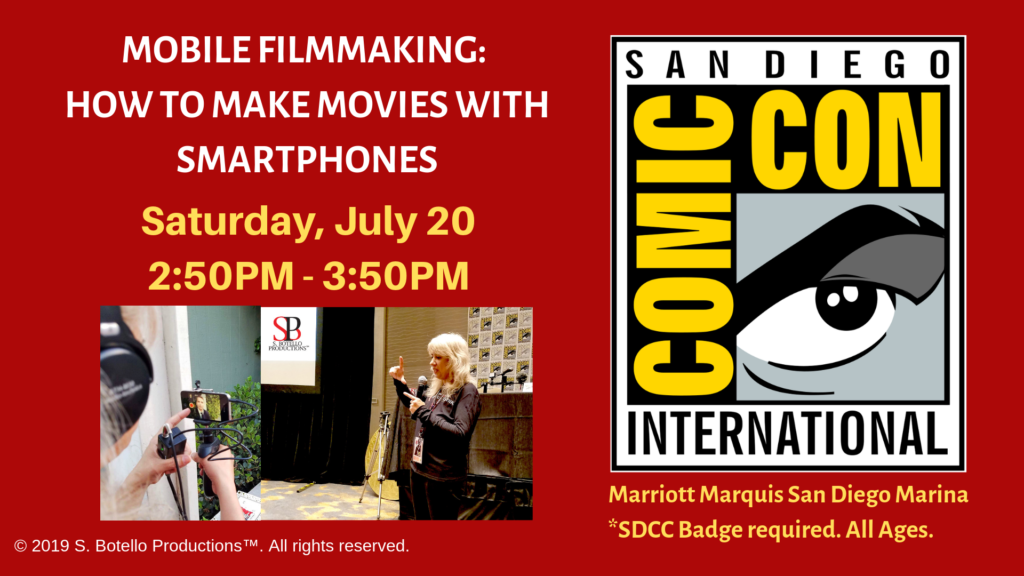 We are going back to SDCC (San Diego Comic-Con International) for the fourth year in a row! We are grateful for the honor and privilege of sharing the International Mobile Film Festival in San Diego at this amazing pop culture annual event.
We presented at SDCC in 2016, 2017 and 2018 and we look forward to presenting again this year for their 50th Anniversary. Congratulations, San Diego Comic-Con!
Join us in our Mobile Filmmaking Panel from 2:50PM – 3:50PM on Saturday, July 20 *We'll share the direct link to the panel here when the schedule is online for Saturday.
We would like to invite you to be a part of the presentation with IMFF founder Susy Botello as she presents a short film shot with a mobile phone and shares how you can turn your story into a movie using yours. Susy will bring her tools to show everyone how to capture good sound directly into your phone (did you know you can use an XLR shotgun mic?), how to stabilize your shots (featuring Free Vision Gimbals), we will talk about budgets, SHORT & FEATURE FILMMAKING WITH SMARTPHONES and more!
*Only attendees with Comic-Con badges can attend.
We will share updates on social media and in the Event page on Facebook.